70 plus former co-workers gathered to share memories days past at Datapoint and Intelogic Trace!  The party room at the Little Red Barn Steakhouse was buzzing with stories and laughter Saturday, October 17, 2015.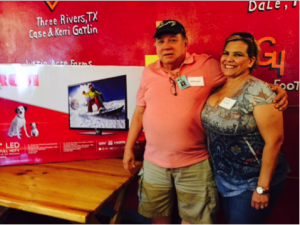 Great food and drinks added to conversations and made for great memories for the group that gathered.  As soon as all photos are received, the memories will be shared with 550 plus subscribers to this site.  A monitor set up by Jim Mathis scrolled through over one thousand photos submitted over the years by former co-workers and friends.
Participants in the Silent Auction left with dinners, theatre tickets, gift baskets and fall home décor as well as many other treasures.
Bob and Cecilia Morgan were the happy winners of the Big Screen TV raffled at the event.  Congratulations!
Special thanks to the Reunion Committee for their planning efforts.  We also want to recognize the management and staff at The Little Red Barn Steakhouse for another event with great service and menu items.  We appreciate their gift cards donated to the Silent Auction!
Not all former members of the Datapoint family were able to attend the reunion.  We extend our best wishes to all who were not present and hope to see you next year.  Without all those who come back year after year and new attendees there wouldn't be successful gatherings!  Everyone left with more memories of another fun party and "see you next year!" promises!
Happy holidays to all, stay tuned to this site and invite others to register!