If you've already RSVP'd, thank you!  If not…
…join us this Saturday for great food, drinks, memories and more. Over 100 former co-workers and their families are signed up to attend this annual event.
Where and when? The Little Red Barn Steakhouse, 1902 South Hackberry SA, TX 78210 from 12:00 to 4:00 PM.  (map)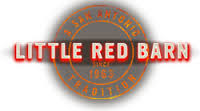 Look for the pre-registered line and pick up your name tag. No waiting! Watch for familiar faces and let the fun begin. The Silent Auction items are ready for your holiday shopping. You might just find a treasure for your own wish list!
Have your cameras/phones ready and capture memories with former co-workers. Then send the photos in for the Datapoint Remembered site if you wish to share. You will be seeing a collection of over 1000 photos scrolling on a monitor throughout the event.
Donations are always welcome. www.datapointremembered.org. Select DONATE and Pay Pal. But don't worry…you can donate Saturday at the reunion if you wish. See you on Saturday!  And RSVP today if you have not already!